The reasons why customers don't buy, and what you can do about it.
If you have an e-commerce business, you'll be acutely aware of a certain metric, above all others. Shopping cart abandonment – the rate at which shoppers fill their cart but do not make a purchase – can stay stubbornly and perplexingly high.
Typically, this rate is actually high across the board. Research from 2017 suggests that worldwide, shoppers are abandoning their online carts at a rate of 69.23%. Abandonment rates also vary widely across industries, with clothing being the highest e-commerce category.

Why do online shoppers go through the trouble of shopping, then never make a purchase? Let's explore these reasons and what you can do to reduce the rate.

Top reasons for online checkout abandonment
Top reasons for online checkout abandonment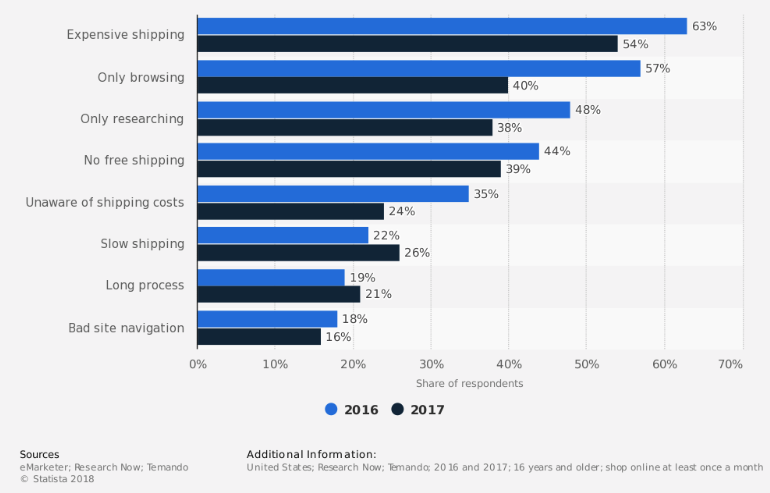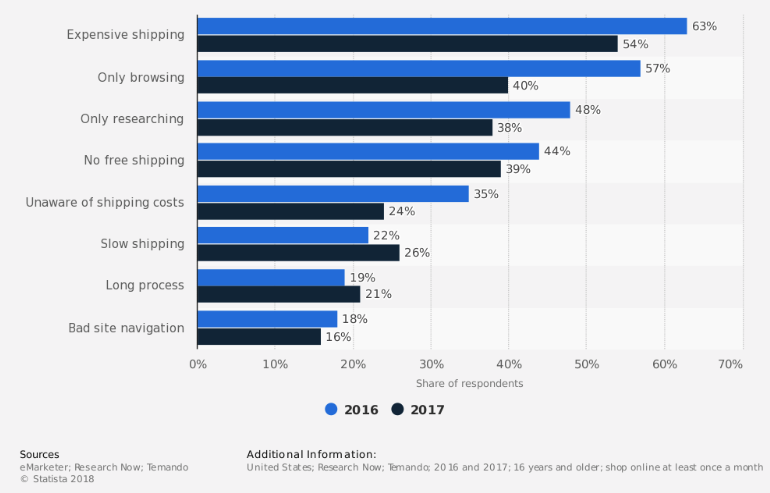 Shipping: cost and time
The top cited reasons are related to the time and cost of shipping. According to 2017 data collected by Statista, expensive shipping is a primary reason for abandonment for 54% of customers. No 'free shipping' is the third reason at 39%, slow shipping is the sixth at 26%, and being unaware of shipping costs is the seventh, at 24%. Shipping costs were also a primary factor in a study conducted by UPS.
Consumer behaviour: browsing and researching
Filling an online cart is part of the 'browsing' and 'research' stages for many customers. Statista data shows that 'only browsing' and 'only researching' were the second and fourth reasons for shopping cart abandonment. Research by the Baymard Institute also found that 58.6% of US online shoppers had recently abandoned a cart because they were not 'ready to buy'.

Long processes

Some customers are short on time and patience. A checkout with multiple steps, including filling out personal and payment details, can give an impulsive shopper plenty of time to reconsider a purchase. The Statista data cites a 'long process' as being a primary reason for abandonment for 21% of shoppers. A 2016 survey conducted by the Baymard Institute supports this reason, with 35% of respondents abandoning a cart because they were required to create an account.
Poor site navigation
Other shoppers may not understand how the checkout process works. There may be too many options, confusing layouts, multiple or repetitive steps and lots of unclear instructions. Poor navigation, according to Statista data, was a primary reason for abandonment for 16% of shoppers. This could be especially true for mobile users, which tend to have a higher rate of overall cart abandonment.
Security and trust
And finally, there are issues of trust and security. 21% of respondents to the Baymard Institute survey cited security concerns as the reason they abandoned a recent online purchase. If customers are asked to enter personal, contact and credit card details, some will ask whether their information will be used appropriately and stored securely. If there are few signs they can trust, customers may shop elsewhere.

10 tips to reduce cart abandonment
Here are 10 tips to reduce cart abandonment rates and increase your e-commerce sales. Consider reviewing site analytics for clues on which steps will be the most effective for your business.

Optimise your checkout
1. Reduce steps and complexity – This action is about making it easier for your customers to make a purchase, and quickly. Start by cutting or consolidating your 'checkout flow' and reducing the information customers are required to enter by making optional steps.
2. Change the order – Make the easy steps in your checkout process the first customers will have to take. For example, adding personal information is a low effort step for most customers, so they are likely to begin the process. And once they start, many will also feel inclined to finish.


Enhance the experience
3. Mobile responsiveness – Make sure your checkout is made for a mobile experience. Remember these users could be holding their phone in any number of ways. Having big, clear actions with large type and minimal scrolling can make a big difference in checkout usability for mobile customers.
4. Guest checkout – Don't force users to create an account if they don't need to. Having a 'guest checkout' option gives users the chance to make a quick, fast purchase. If they're not bogged down in signing up, or worrying about future email spam, customers will be more likely to buy.

Add some urgency

5. Countdown timers – Customers are more likely to make a purchase when they sense urgency. While you don't want to go overboard, you can let your customer know if there is a certain time they need to check out – for example, timers are frequently used in the checkout process for concert ticketing.
6. Stock availability – If stock is limited, let your customers know. Displaying inventory numbers will convey an element of scarcity as your customers see a finite number of items available. Hotel booking sites, for instance, often let customers know the number of selected rooms left available for certain days.

Improve content
7. Product information – Provide detailed product descriptions and high-resolution imagery. Also include price information and shipping information. This will reduce the number of 'window shoppers' hanging in your checkout, and more of those who have the intention to buy.
Make perks clear

8. Social proof  – Social proof is a well-known website conversion tactic that's used by our Web Agency Melbourne. It's where someone observes the actions of another to guide their own behaviour. Social proof for an e-commerce store may include customer testimonials and reviews placed just before the checkout process.
9. Shipping, discounts and policies – Put your customers at ease and remind them at the checkout of any discounts they're receiving, as well as expected shipping times and service guarantees. You may also want to consider offering free or discounted shipping, where possible.
10. Payment and personal information – A lack of trust is a common reason why online shoppers won't buy. Adding a security logo for your payment system can help bridge this gap, while adding an SSL certificate will ensure the shopper's browser displays a 'secure' logo for your site.

Follow up with 'cart recovery'

12. Email marketing and remarketing – Browsing and researching is part of the shopping process. Not every customer is ready to buy. You can re-engage these potential customers at a later date by sending a follow up email or remarketing to them on social media.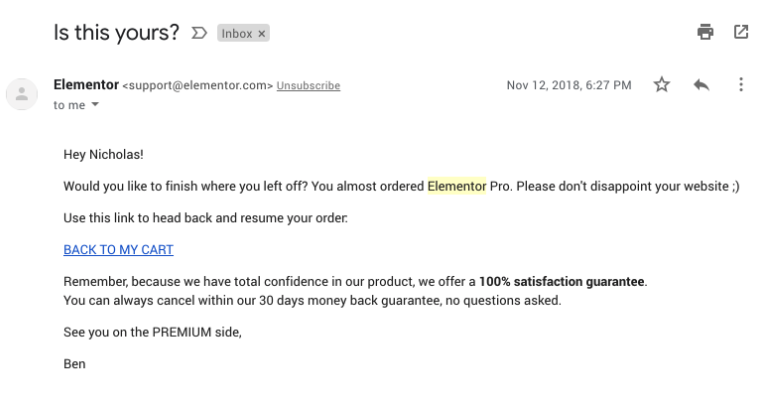 These tips are a start. But reviewing your e-commerce web design, analytics and running your own tests will pinpoint specific ways to reduce cart abandonment.

Click-stream analysis, click and scroll maps, A/B testing and user testing are all potential tools to discover the most effective ways your e-commerce business can increase sales.

Want to learn more? Speak with a Conversion Rate Optimisation expert today about shopping cart optimisation.