Increase leads and sales by ranking your business in local Google search with local SEO
Every business wants to be number one on a relevant Google search. Search Engine Optimisation (SEO) does this for you, but there are millions of companies, businesses and entrepreneurs across the world trying to do the same thing. That means your business is competing with hundreds if not thousands in your industry.
While it's great to get your business visible globally, let's face it: it sounds too idealistic.
Growing a business is a step-by-step process and for small to medium enterprises that operate offline, utilising a local SEO strategy needs to be their first priority.
For businesses that rely on local clientele, like Osteopaths and Lawyers, proximity plays a huge factor in a buyer's decision. Ultimately, consumers gravitate towards what's most convenient for them when choosing who they give their business to.
So, prioritising local SEO will get your business on top of Google maps rankings, and therefore get you more exposure, generate leads, and ultimately, boost your sales.
What is local search engine optimisation?
Local search engine optimisation, otherwise known as local search marketing, is the process of increasing your business' Google search ranking to reach your local audience online.
According to Hubspot, a local business is any type of business with a storefront or service area, including small, medium, and enterprise-level brands.
You would have seen this before when typing something like "best restaurants in Melbourne" into Google. The restaurants that show up at the top use local SEO.
Local SEO not only shows your business' location, it will also link users to your website so they can check your services (as well as your nearby competitors') conveniently.
So if you do your local SEO right, your business will rank high on Google Maps and in the local pack results if someone looks for a solution in your location.
How does local SEO work?
Search engines gather information for local searches through signals like local content, social media profiles, links, and citations to determine their relevance to the user's local search.
Google is known as the best and most used search engine in the world, so most of what we will mention here prioritises how Google works.
Google considers these three factors when determining local results and their ranks on its pages:
Relevance
Distance
Prominence
Relevance considers how closely your business matches the keywords that the user searches. Distance considers the user's proximity to your business. And lastly, prominence considers how well-known and acclaimed your business is.
Google also uses the Name, Address, and Phone number (NAP) system. Google uses NAP as indicators for a business' identity, so your business ought to have consistent NAP citations all around the web. Perrill uses this analogy to explain the importance of NAP citations: NAP is to Local Businesses as a title tag is to a web page.
A tool that most businesses use (or should use) to appear in Google searches is Google My Business (GMB). Creating an account and adding your business information in GMB allows you to claim your business listing on Google.
Is local SEO still relevant for small businesses?
Picture this: You're staying in Melbourne for the weekend, and after a long day of touring, you want to eat at a really nice restaurant. You don't know anything about the local restaurants though, so you do a quick search on Google.
The following results come up when you type up "Restaurants Melbourne Open":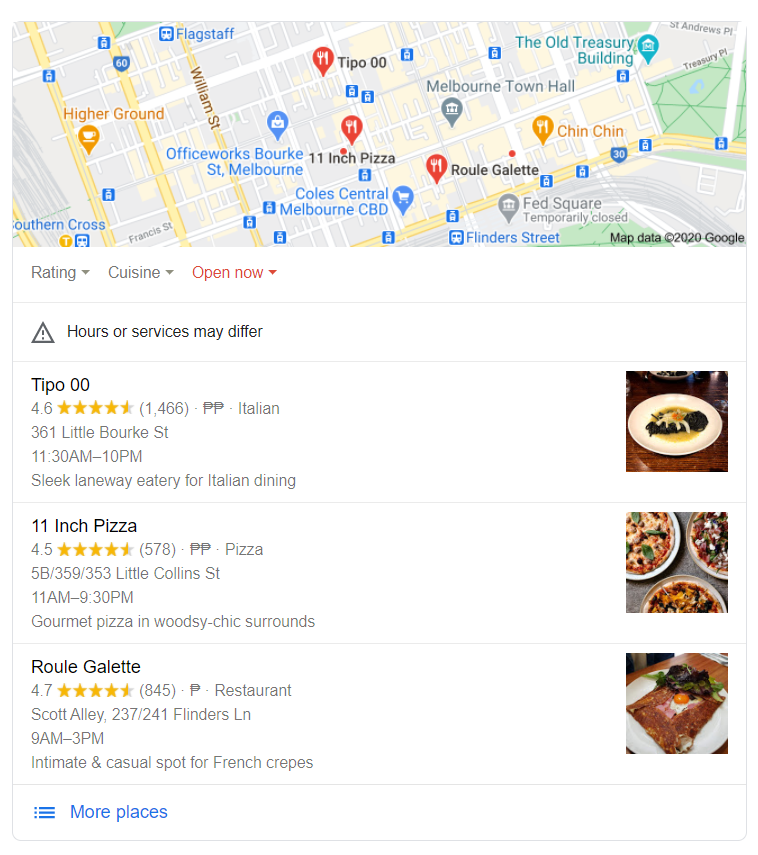 You're too tired to have to browse through all the listings, so you don't bother clicking the "More places" button and simply rely on the top searches, checking which of the three is the closest to you based on the pins on the map, since the ratings are similar. You pick one and enjoy a good meal there.
This is an example of the "Local Pack", which is a Google Maps feature that benefits your business in many ways. Through local SEO, businesses can climb up this ranking and be featured as one of the top listings on the local pack.
This example shows the best results based on Google's criteria, but they might not necessarily be the best restaurants in Melbourne. Many consumers don't have the time or patience to check every available listing, so it's likely that they'll only consider the ones at the top as their main choices. There might be a closer one that didn't set their Google My Business details, lacks NAP information, or doesn't have an SEO blog or service page that could boost their Google rankings.
The same applies to any business, including yours. Even if your business is in many ways better than your competitors, if they have a better ranking on Google maps, customers will take notice of their business rather than yours. A lot of people, especially those who don't understand what SEO is and what it's for, assume that the top results are automatically the best ones.
Optimising your ranking on Google maps will therefore help increase your online visibility to potential customers. According to research by The Manifest, Google Maps is the preferred navigation app for 67% of consumers.
Additionally, Google Trends revealed that over the last two years, searches for local places with "near me" have grown 150% faster than comparable searches that don't include "near me".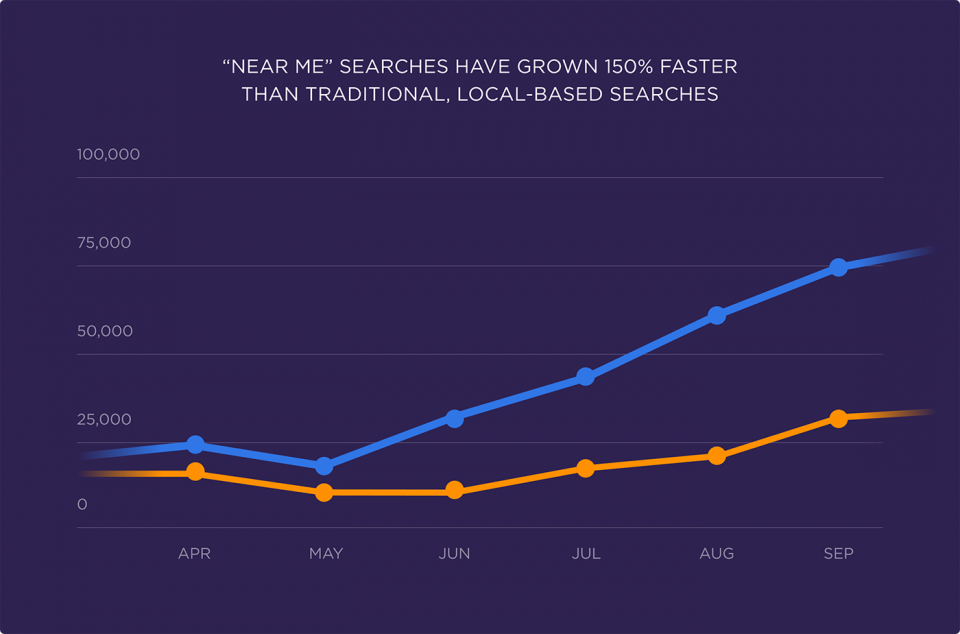 How to dominate local SEO rankings
Now that you understand the importance of local SEO, it's time for you to dominate the rankings. Here are the most effective ways to rank your business online:
Create your Google My Business account
Having a GMB account is essential for local SEO for most businesses. This tool allows you to easily manage your presence across Google and add your business listing on Google Maps.
When you create your profile, remember to:
Verify and claim your listing ASAP.
Complete your listing information entirely (include opening hours, directions and relevant images and videos, address, and all phone numbers, preferably local).
Make sure your business description is compelling and explains concisely what your business does.
Add the main search keywords of your services.
Gather and respond to reviews, whether positive or negative.
Include featured posts or news.
Include samples of work if relevant.
A complete GMB listing looks like this: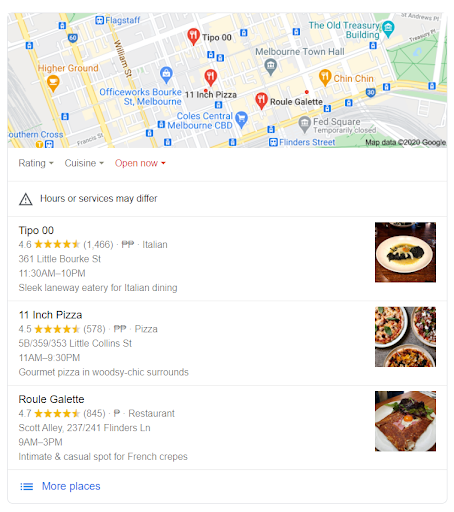 Use Local Business Schema
Local business schema is a structured data markup code you add to your website for search engines to easily identify or organisation type and what you do. The main properties that can help in your local SEO include:
@type
image
telephone
name
Logo (of your company)
description (of your company)
openingHours
url
sameAs (other social properties that support your business)
geo (longitude and latitude coordinates)
contactPoint
address
Other properties are listed here.
Optimise your website with SEO elements
The following parts of your website should be optimised with SEO keywords:
Page title
URLs
Page headers
Internal links
Content
Your website and all the directories you're listed in need to have your NAP on every page. All of your NAPs should identically match your GMB. Landing pages should also be listed, including the main landing page for GMB.
All of these should incorporate main keywords, location keywords, surrounding landmarks and transport, and relevant signals for Google to Geolocate.
Apart from all of these, you should also have a responsive, user-friendly interface for your mobile website. A quick-loading and easy-to-navigate web design results in a good site and on-page experience. This increases your business ranking on Google.
Gather Google reviews
Google reviews are essential in making your business look more appealing and trustworthy. Having more reviews will boost your ranking on Google.
Here are a few ways on how you can gather Google reviews:
Deliver amazing customer service. The first and most important way to gather reviews is to deliver excellent service. People usually leave reviews if you have very commendable or incredibly terrible service. You want the former.
Collect customer emails. Then ask them to write a review on their experience with your business if they appreciated what you've did for them.
Create a page on your website for reviews. Or have a link to third-party review profiles.
Respond to your reviews. Yes, even the bad reviews. And for those negative reviews, you need to be able to respond professionally. If other users see that you're diligent in responding to all kinds of reviews and questions, they'll be more inclined to leave their own reviews.

Increase local citations with the correct NAP
Lastly, submit your site to more local directories. While Google is the best place to add your listing, you don't have to limit yourself there. Just make sure that all the information and NAPs you add are correct and consistent across all of the directories.
Some main directories for local SEO in Australia include Yellow Pages, White Pages, Hot Frog, Yelp, and social media sites like Facebook.
There are paid and free directories, just remember to pick the ones relevant to your business. Don't forget to keep updating all of your listings and respond to reviews and queries.
Now more than ever, people depend on online searches to help them with their daily needs, so it's crucial that your business is visible on Google. And with everyone looking for services nearby, it is crucial that as a growing business, you optimise your site locally.
Local SEO will help you rank higher on Google and have your GMB featured as one of the top searches.
Pixelstorm are experts at helping you boost your SEO rankings and Google map rankings.
To increase your online presence and website traffic through local SEO Services, get in touch here: https://pixelstorm.com.au/contact/