While in the past manufacturing companies relied largely on traditional sales strategies such as cold calling, trade shows and outdoor advertising, today a good manufacturing web design is one of the first contacts a potential customer has with a business. 
According to Forbes, 70% of B2B buyers research online before engaging a sales representative. So if you're still wondering if there is any value in a website for manufacturers and industrial companies, the answer is YES.
But in this competitive market, companies won't stand a chance with a website that only showcases contact information and a portfolio. 67% of manufacturing businesses believe that not investing enough time in content marketing was the reason for their company's stagnation. Your company can do better, and we'll show you how.
​​In this article, we'll cover:
What makes a great industrial website?
What are some best practices for manufacturing website design?
10 of the best manufacturing website design examples in 2022
Why a marketing-led website design is essential
What Makes a Great Industrial Website?
As one of the first steps in the customer journey, a great online storefront (website) is essential for driving growth through lead generation opportunities. On average, companies that invest more in inbound marketing than in traditional marketing save about $20k per year. Of these, 49.7% of businesses that use forms on their website state that they bring them the highest conversion for lead generation.
But you have to keep in mind that web design for manufacturing companies is unique; it's not a standard website. It requires industry-specific strategies and functions that cater to multiple target customer groups such as tradespeople, trades companies, different industry sectors such as construction or education.
So, what is important for manufacturing companies when it comes to web design?
Allowing product catalogue downloads
Featuring Data Sheets, Care Guides, Brochures
Featuring compliance and warranty information
Providing helpful tools such as a live calculator to work out compliance requirements, colour combination selections or quantity requirements.
Why is a feature like a calculator important? Because with manufacturing websites, users expect a tool, not just a brochure. They expect to find information – sometimes even with their customer right next to them. So if your website doesn't provide easy to find answers to your users' technical questions, you are creating a roadblock to a sales enquiry.
What are Some Best Practices for Manufacturing Website Design?
Besides having a strong identity, a great website in the industrial sector is clear, surprising and informative. But what makes it successful?
Here are some tips:
Mobile-first Web Design
If a website is not responsive, is it even a website anymore? In today's handset-led technology, an unresponsive website will not be easy to navigate and the bounce rate will be high. In the manufacturing industry, your target audience is often busy and on the move when accessing your website – for example trying to download a data sheet. Think customer first – who are they? Are they on the go? What information are they trying to access? Can they do it on a mobile or iPad? If not, your website design isn't good enough.
Clear and simple navigation
User experience is key for every website, but clear navigation is paramount for a manufacturing website – especially product navigation. With super high volume product inventories, many different product categories and subcategories, a strong, easy to use navigation is imperative to customer happiness. A website visitor should quickly find what they are looking for.
Conversion-first websites
A great B2B website is focused on lead generation. Compelling calls to action and other lead generation opportunities such as product-specific enquiry forms, easy online ordering, downloadables and direct access to the sales team (prominent phone number) should not miss.
Strong branding and messaging
In such a competitive market, your website has to clearly show and communicate who you are and what you do. Cut through the clutter and make yourself recognisable and memorable. Using your brand colours throughout the website, writing clear, catchy headlines in a legible font are just some of the musts for your website to stand out.

Pixelstorm's lead web designer Daniel Florido emphasises this: "Don't underestimate the importance of your technical data, brochures, downloads. That's the data your customers – architects, engineers – need. But what's going to set you apart from the competition is strong imagery and branding."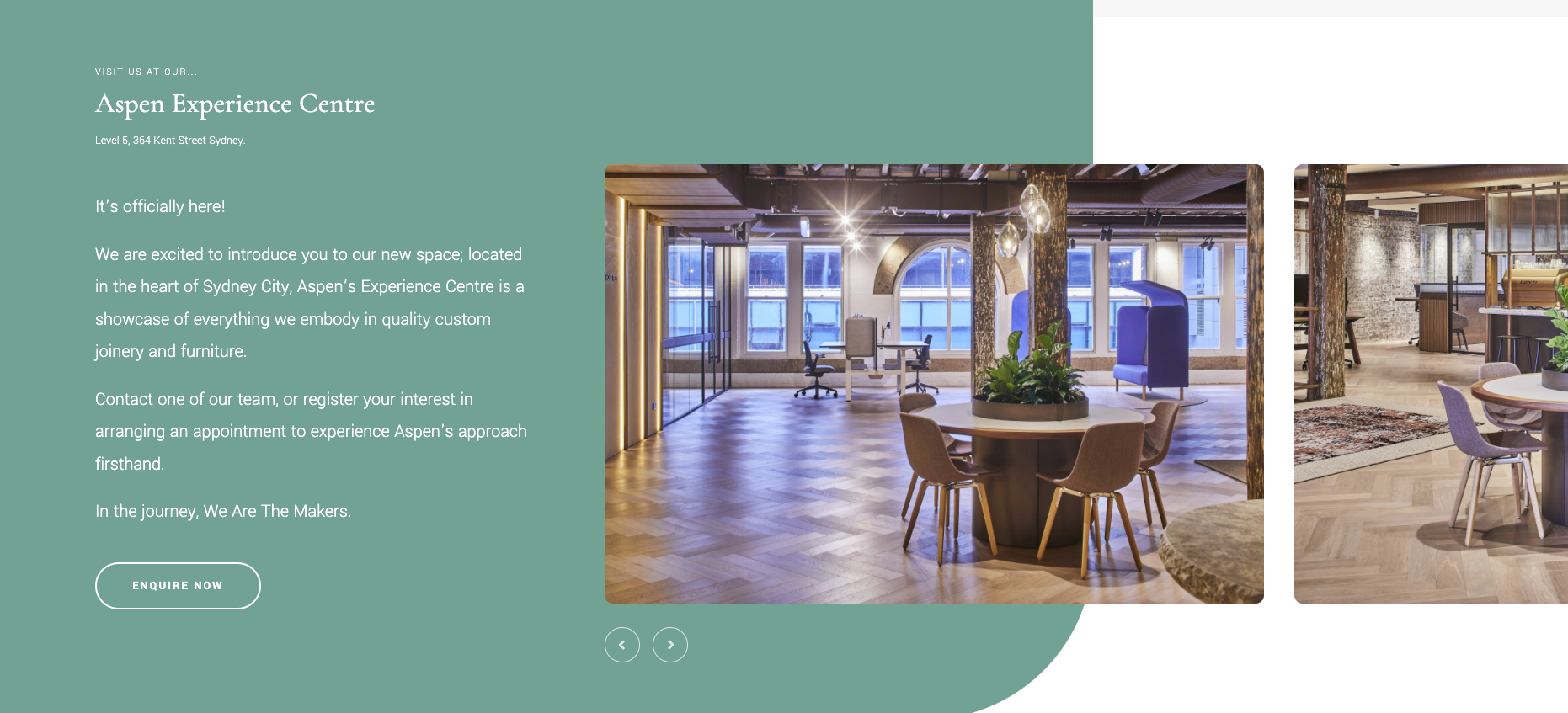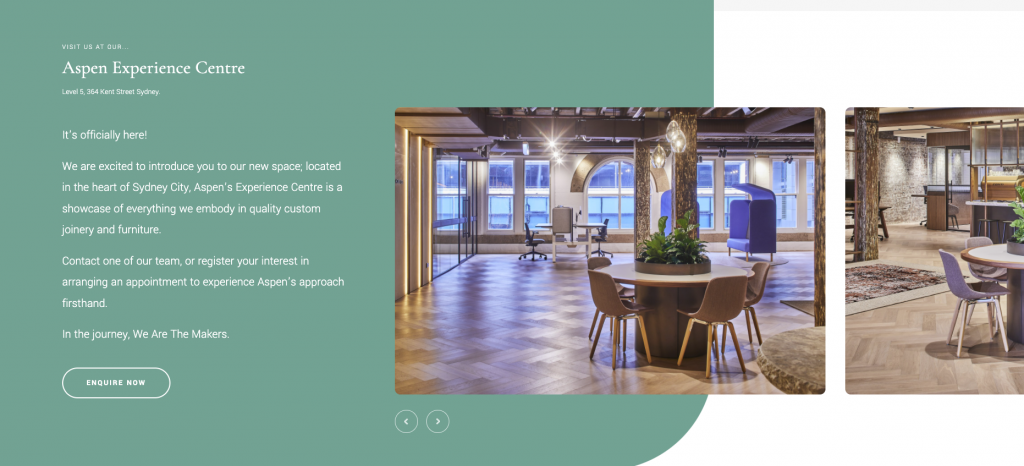 SEO-optimised web development
In 2022, a manufacturing company doesn't stand a chance if the search engines don't rank it. A great website design must incorporate a clear SEO strategy. For example, after implementing SEO strategies, Fisher saw a 500% increase in quote requests, resulting in $3.4 million more qualified sales opportunities.
Strong, clear product imagery
For a manufacturing company, the website needs to clearly show what they do, who they are and have a large catalogue of images associated with each product. Imagery in-situ is especially important, as it shows your visitors exactly what the product looks like.
Live Search
A search bar on a manufacturing website is key, and a live search bar is even better. With so many products, features and options available, even with the clearest navigation you need to give your users the option to search for what they need. Live search is better because it displays results as you type characters in the search bar, ensuring an even better user experience.
High-quality visuals of products and projects
Let's face it, a website should not only perform well, but it should also look good. In the manufacturing industry that primarily means a modern, simple and uncluttered website. One that has been updated since the '90s. Using bold colours, high-quality images and videos to showcase your content delights your visitors and makes them more likely to engage with your website and eventually convert.
Live chat
Adding a chatbot to your website allows you to answer the most frequently asked questions about your business without the user having to navigate through your website if they don't have the time.
Testimonials
Adding social proof to your website is key, especially since most manufacturing companies don't have any online products. These days, no one will trust a business that doesn't show that it's trustworthy.
10 of the Best Manufacturing Website Design Examples in 2022
Aspen Interiors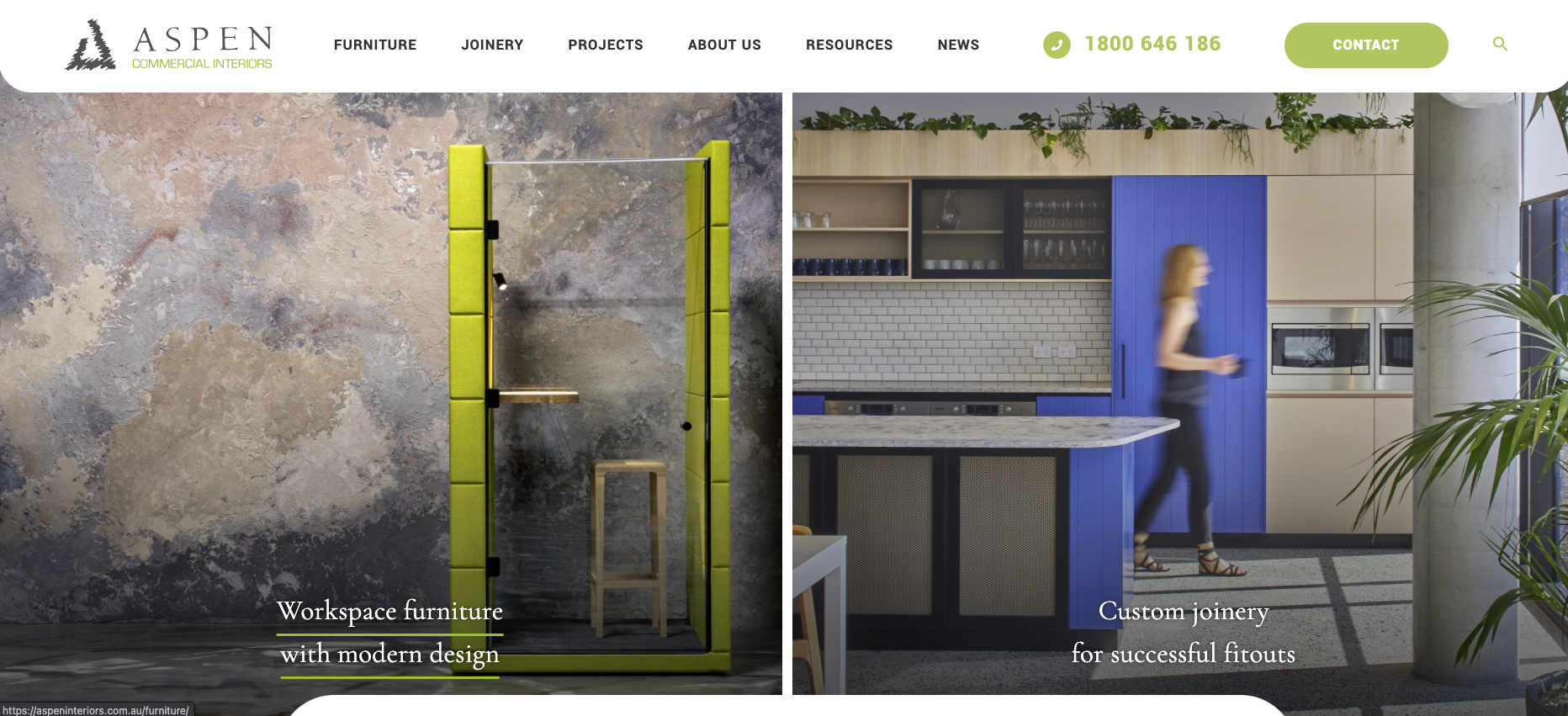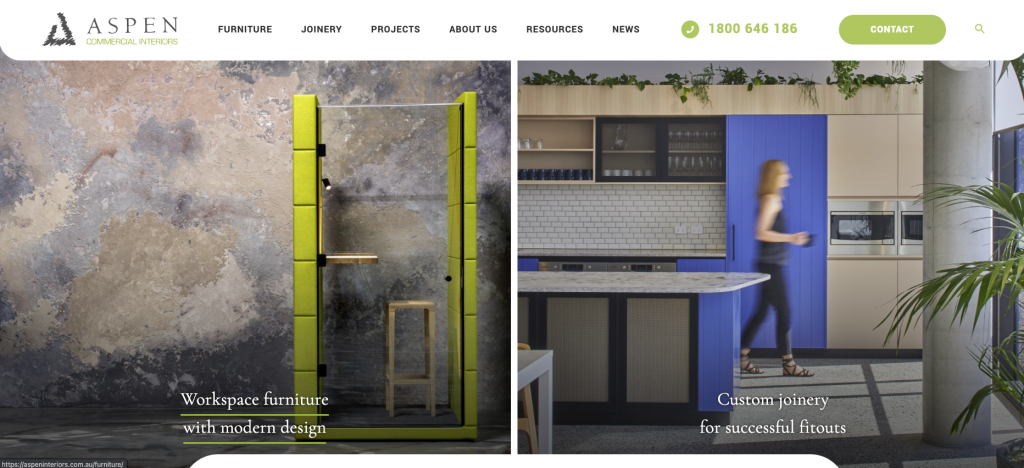 Aspen Interiors (a website we designed) uses high-quality images that speak for themselves and immediately tell the website visitor what the business is about – a key element in any manufacturing web design project. Plus, there's a clever play with the split-screen, with both images featuring green to further strengthen the brand identity and make it more aesthetically pleasing.
Why the Aspen Interiors website works:
High-quality visuals
Strong brand presence
Clear calls to action
TechnoAlpin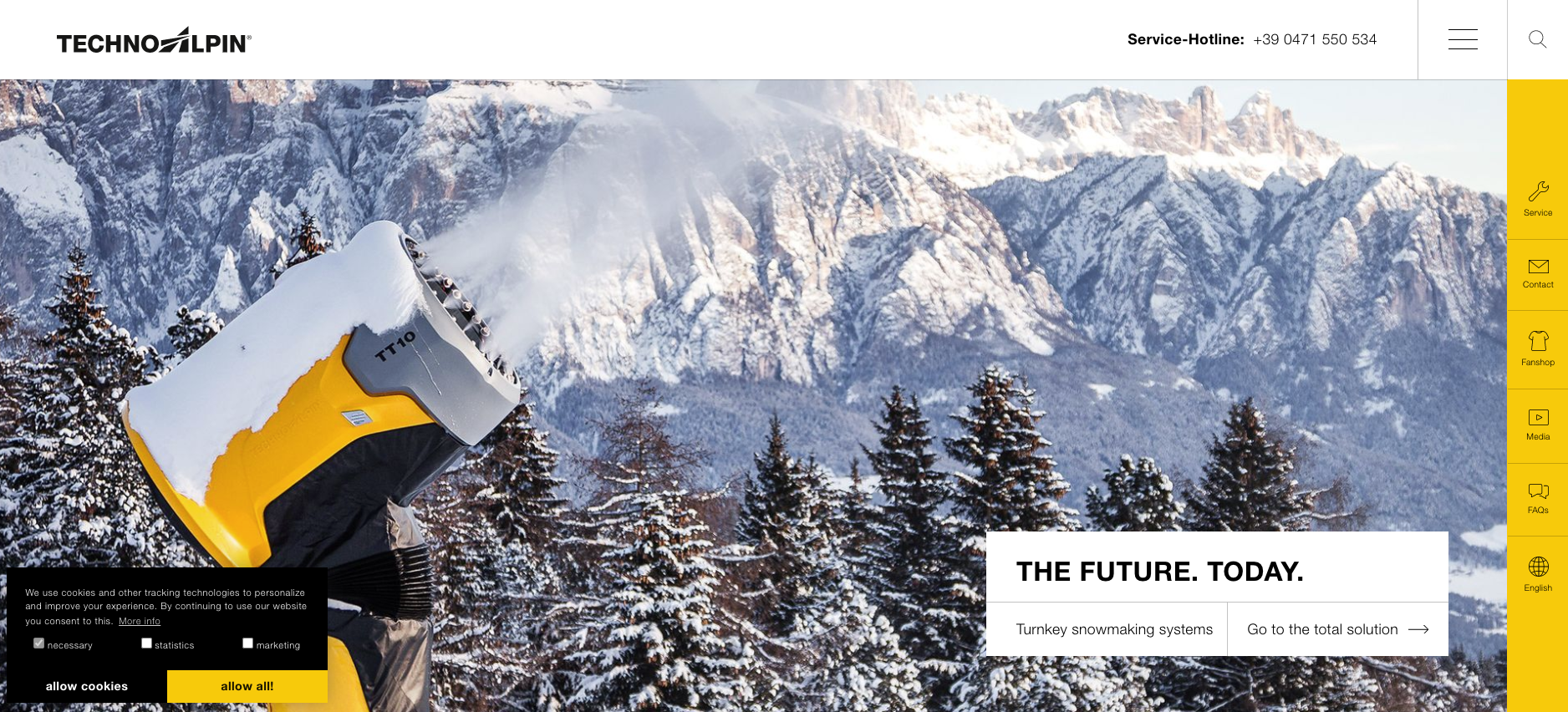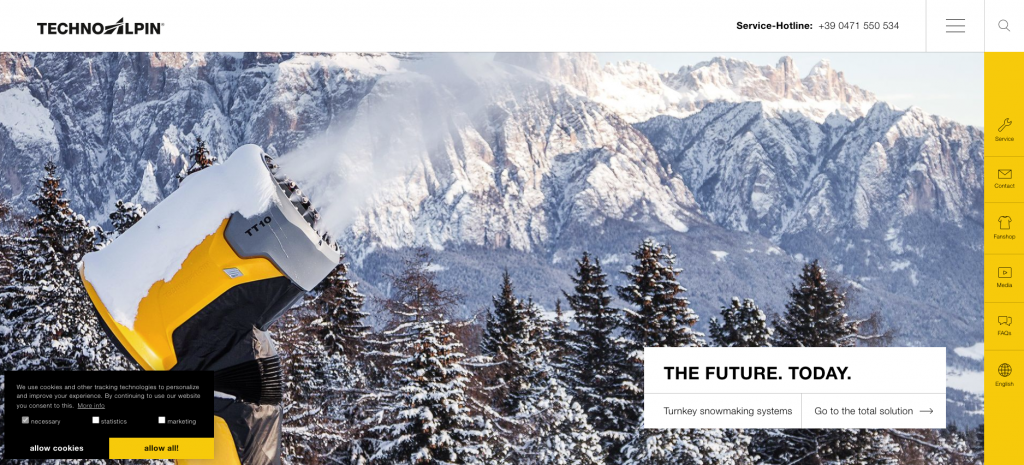 TechnoAlpin website makes use of vertical elements, with the yellow bar clearly visible for easy user navigation. The top of the homepage is a video slideshow that visually introduces the visitor to their business. Their call to action button actually turns yellow when you scroll over it, making it even more compelling to click.
Why the TechnoAlpin website works:
Clean and easy to navigate
In-situ imagery
Hero messaging
Polymaster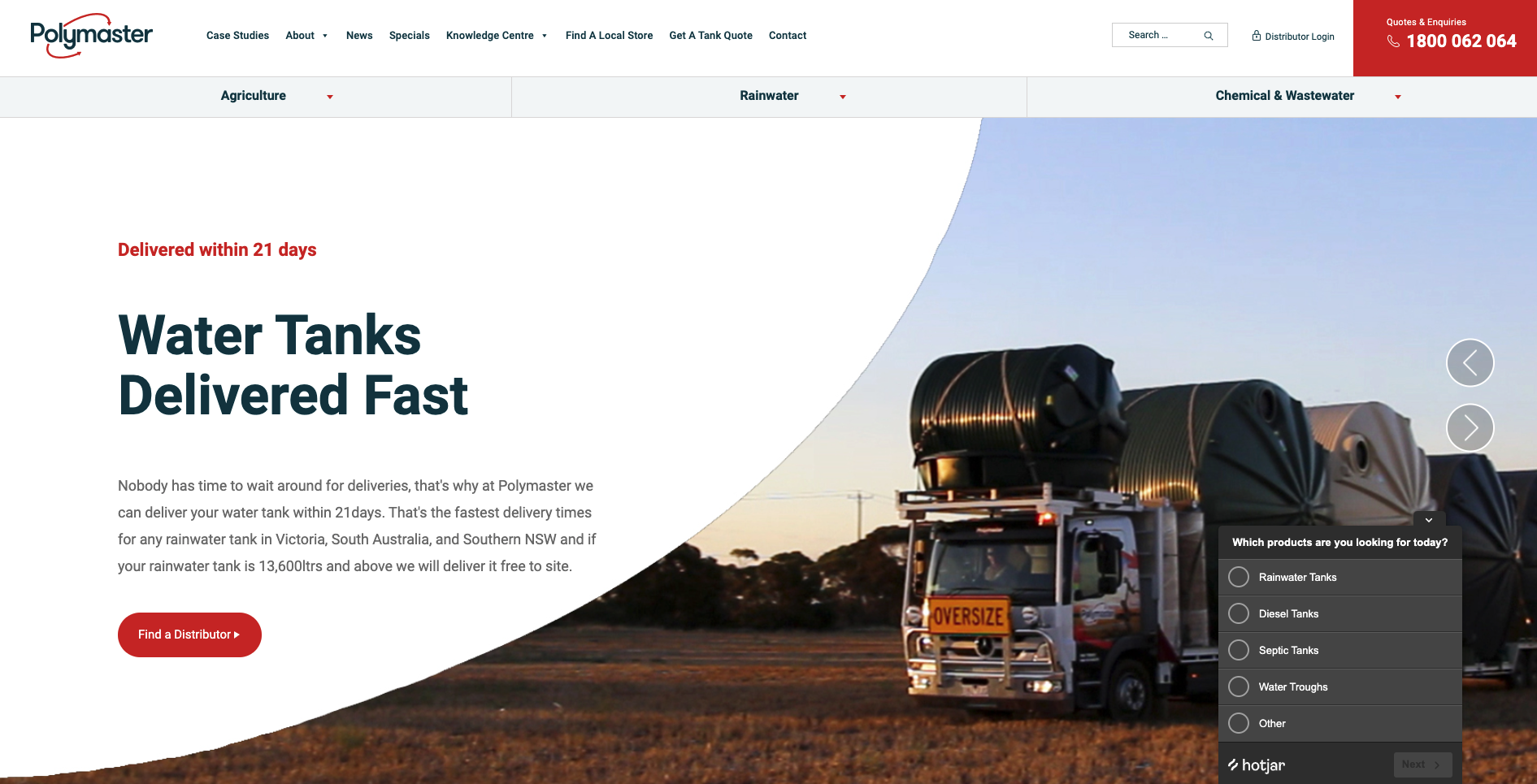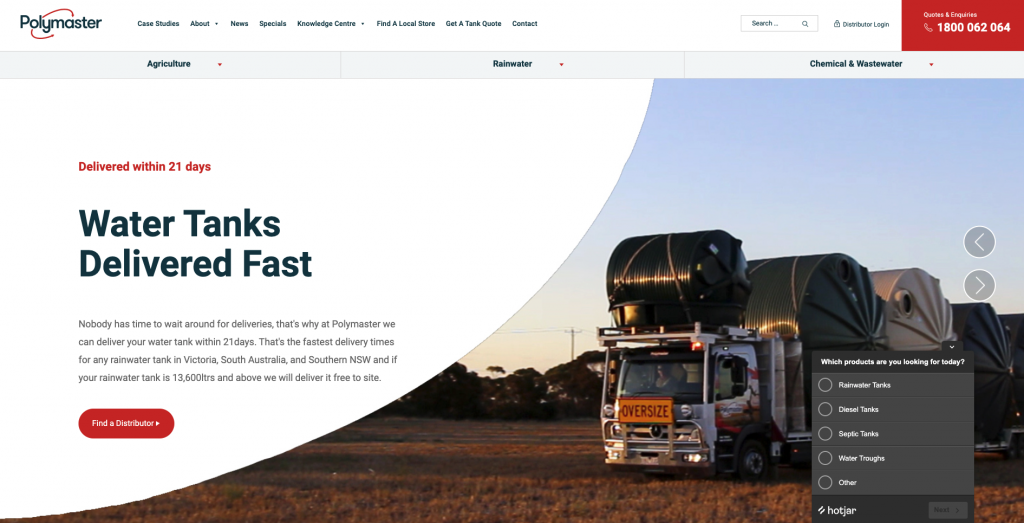 Polymaster (a website we designed) manufacturing website is great because of its very clear navigation and labels with clearly organised drop-down menus. The chatbot is not only great for any enquiries, but it also emphasises the nature of the business.
Why the Polymaster website works:
Clear navigation
Live chat
Mobile-first web design
CAT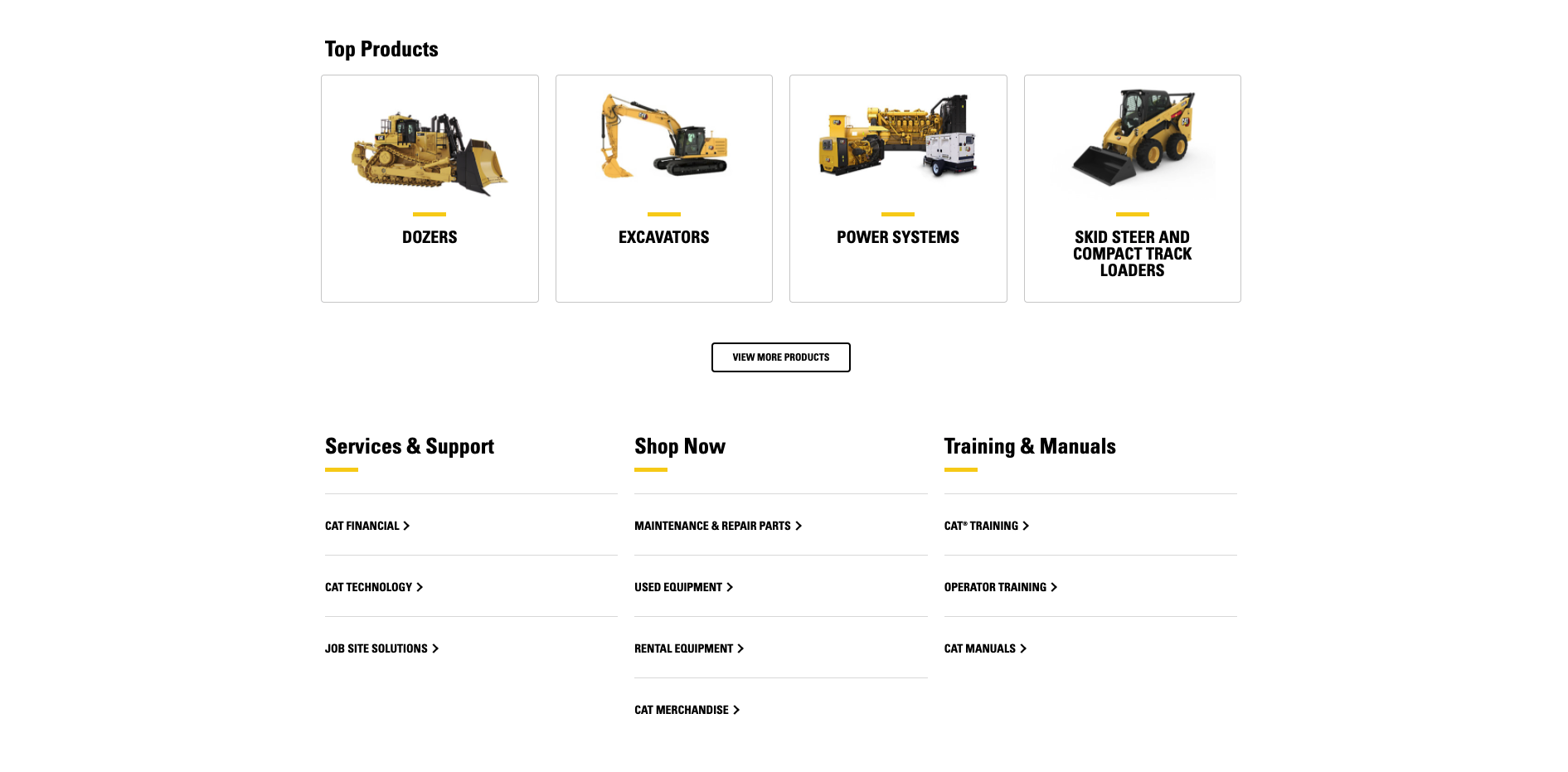 Caterpillar's website is simple, clear and clean, and maximises the use of white space to showcase its products and services. The less is more approach is ideal for their content marketing.
Why the Caterpillar website works:
Strong, clear product imagery
Simple navigation
SEO-optimised web development
Graco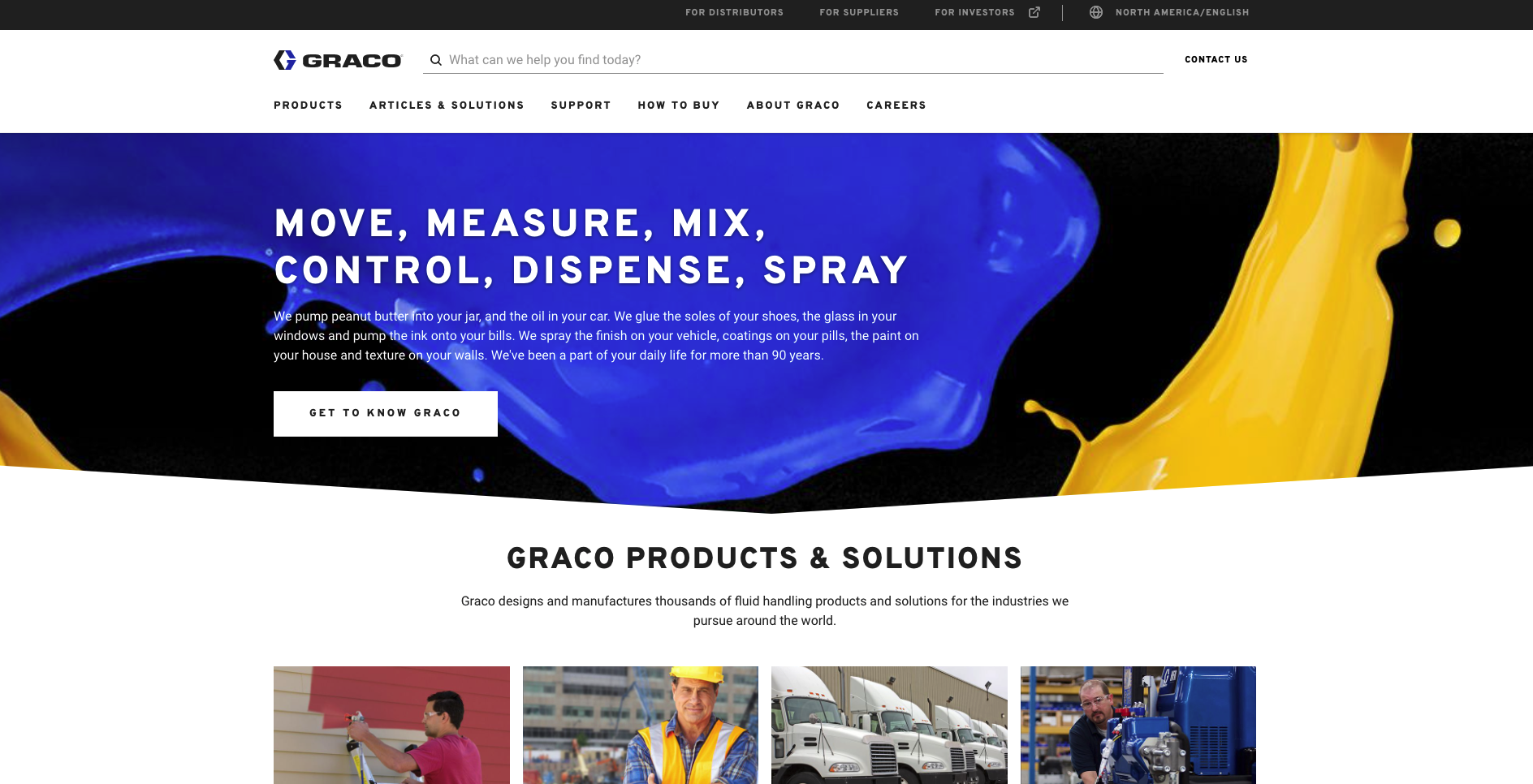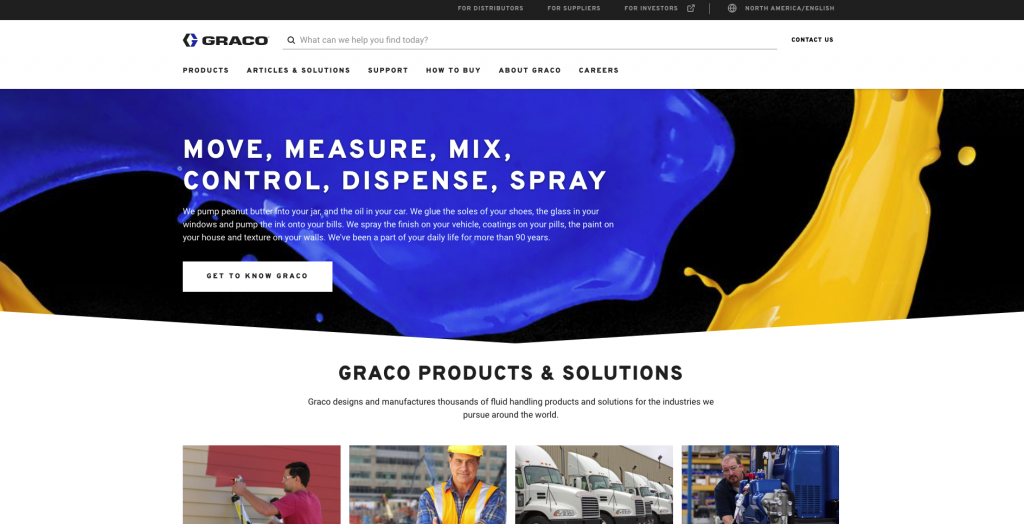 Graco website has a modern design aesthetic, with strong hero messaging. The fonts and colour choices make the text very legible. The bold image on the homepage also makes it more lively.
Why the Graco website works:
Fuss-free navigation
Mobile responsive design
Skillful use of white space
Cisco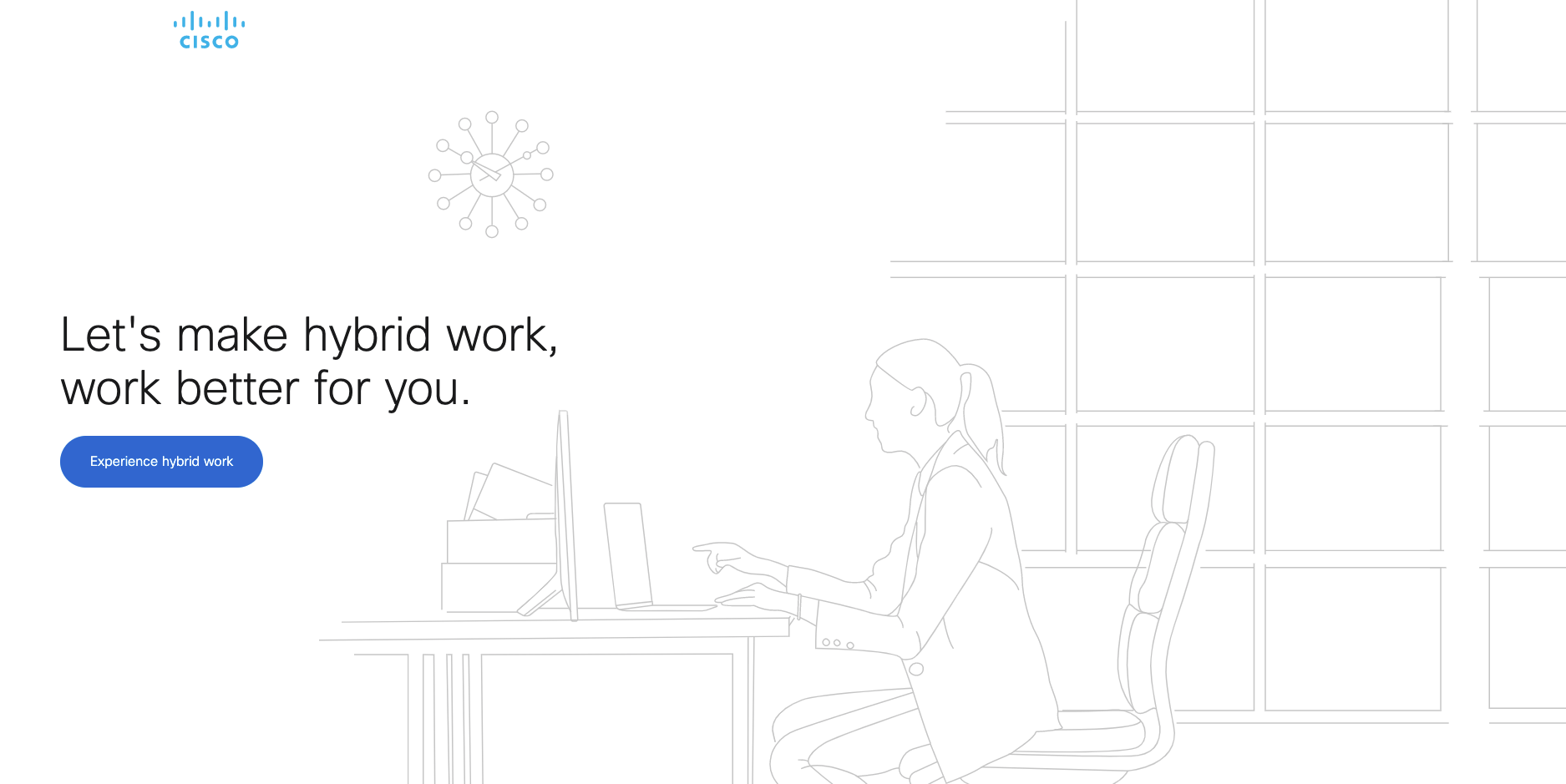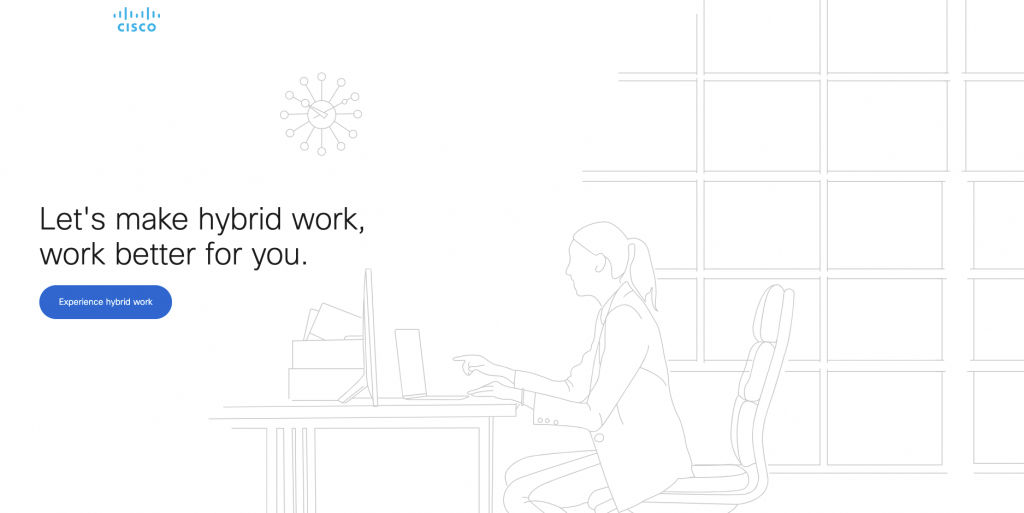 Cisco mixes real imagery with animated illustrations to delight its visitors by painting a whimsical scene. This instantly hooks the user and encourages them to engage with the website. The homepage ends with a dynamic video that solidifies the brand mission.
Why the Cisco website works:
Surprising elements (on-scroll animation)
High-quality video
Live search bar
Serving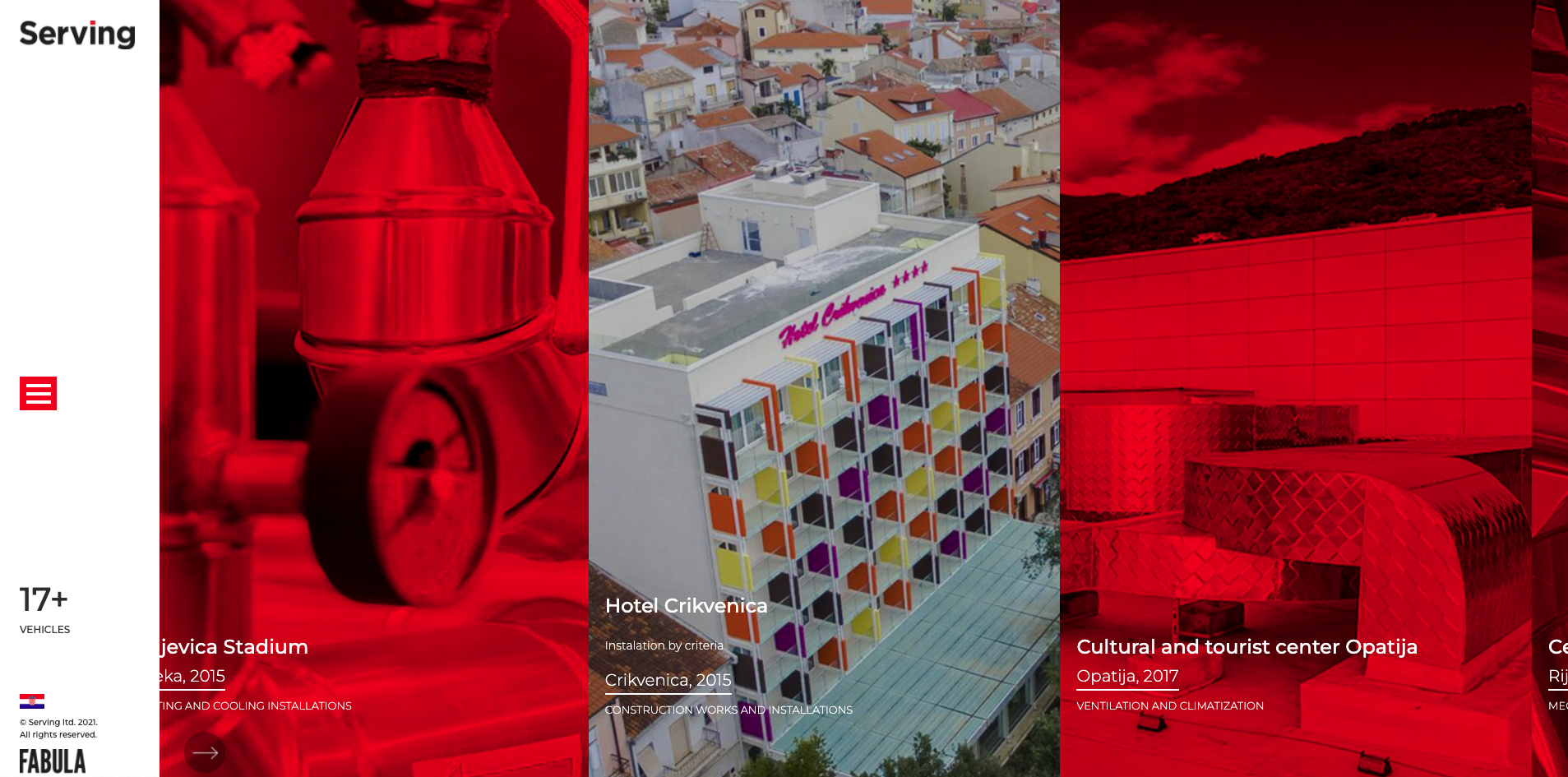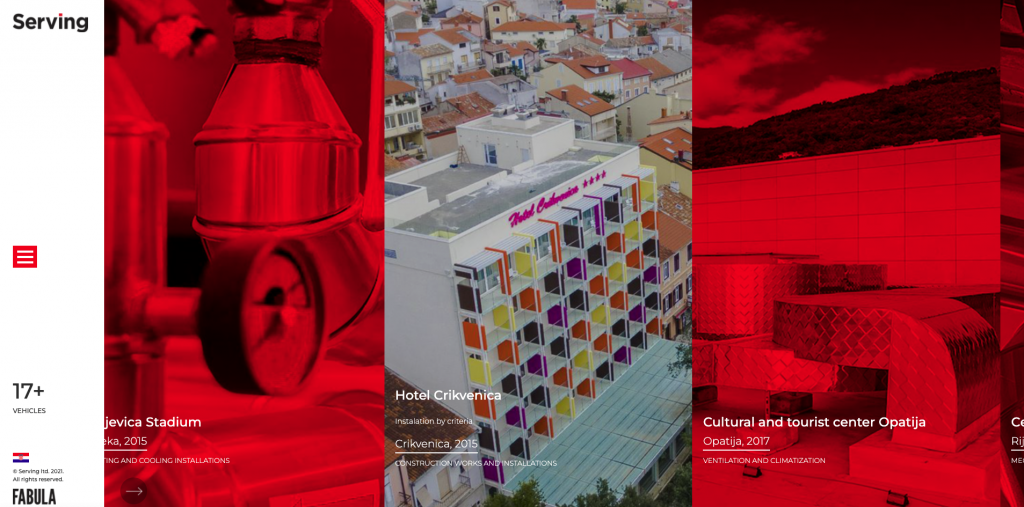 Serving employs vertical bars as links to different pages. This is emphasised with a change in colour during the horizontal scrolling. The hamburger menu on the left side is made easily visible through the use of white space around it.
Why the Serving website works:
Clear navigation
Strong branding
High-quality visuals of products and projects
ActiWork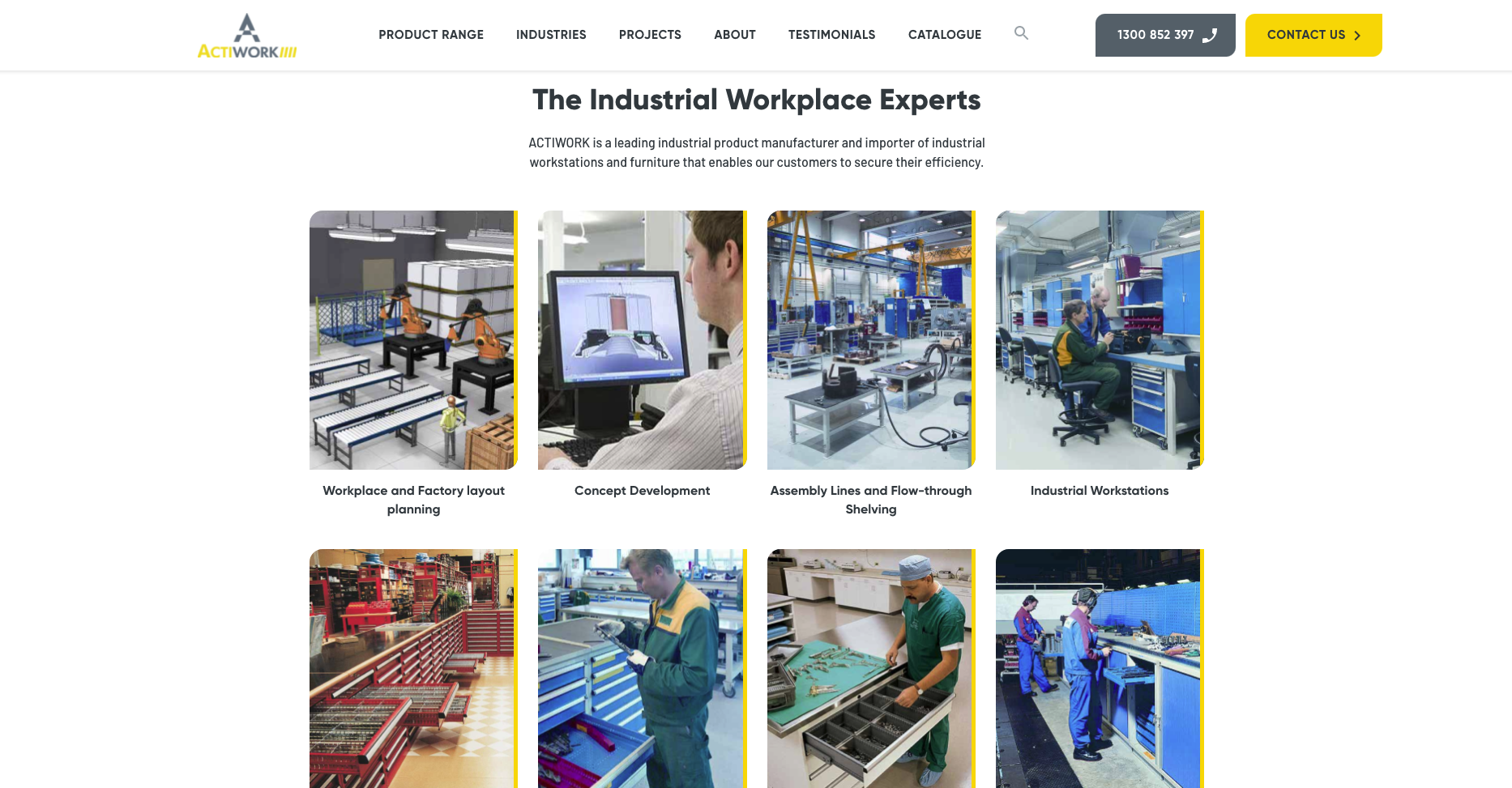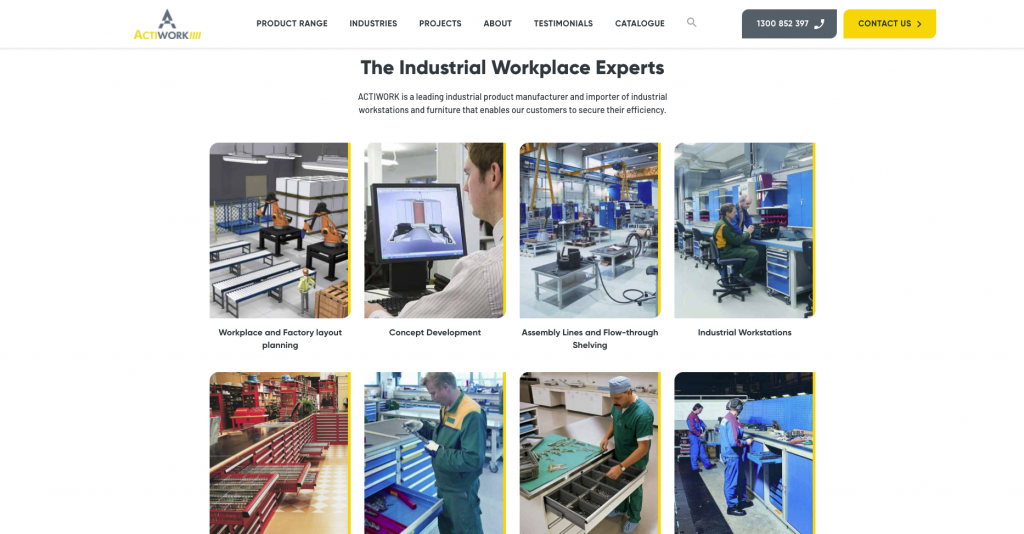 ActiWork (a website we designed) uses clear call to action buttons and top navigation labels that can convert the visitor quickly. The web design clearly articulates their branding, and the content marketing is effective by easily directing specific user personas to the content that appeals to them.
Why the ActiWork website works:
Conversion-first website
Easy to access Testimonials (in the navigation bar)
Fuss-free, clear navigation
CST Tires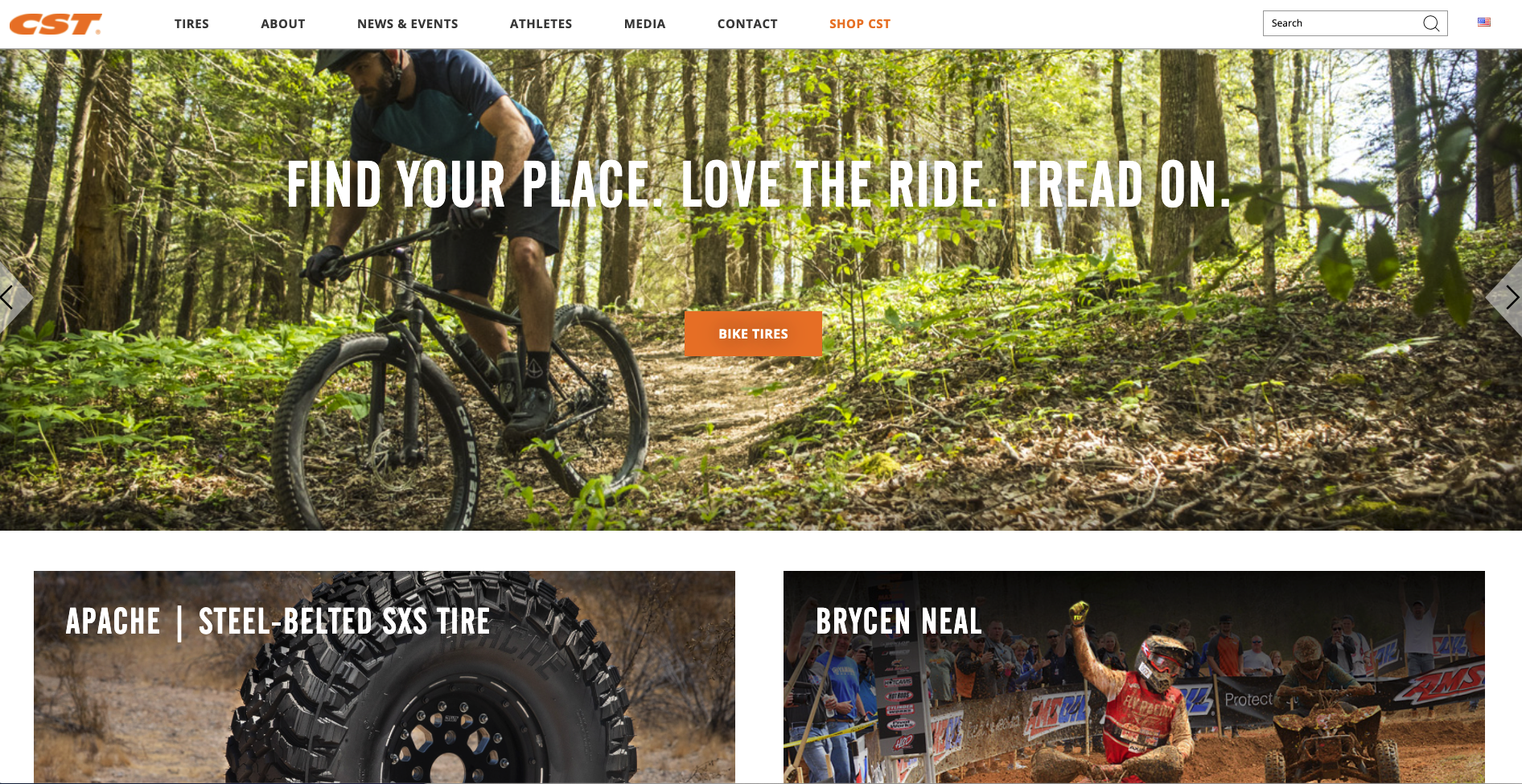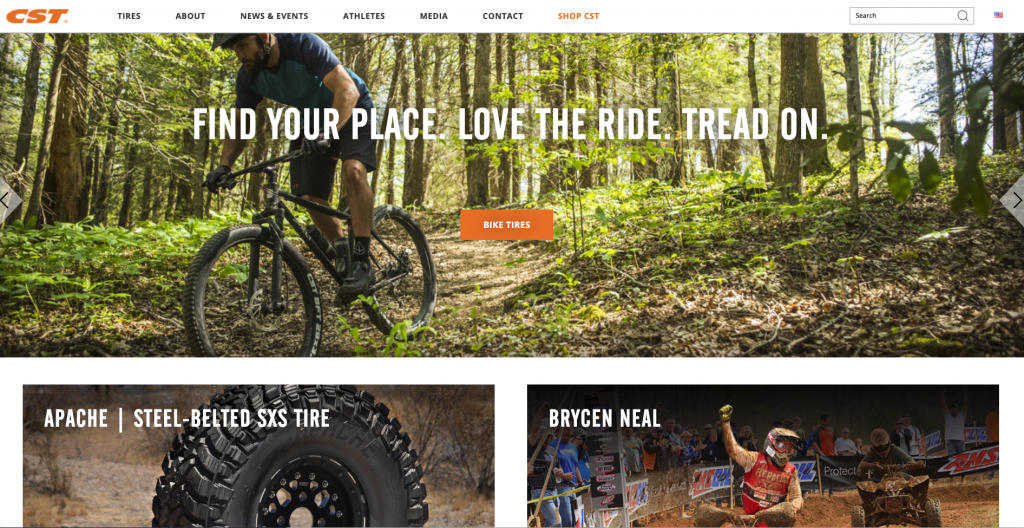 CST Tires is a great industry website that focuses on high-quality imagery and bold, hero messaging over anything else. They understand their persona well and their brand is instantly recognisable.
Why the CST Tires website works:
High-quality visuals
Live search bar
Legible font and hero text
DuPont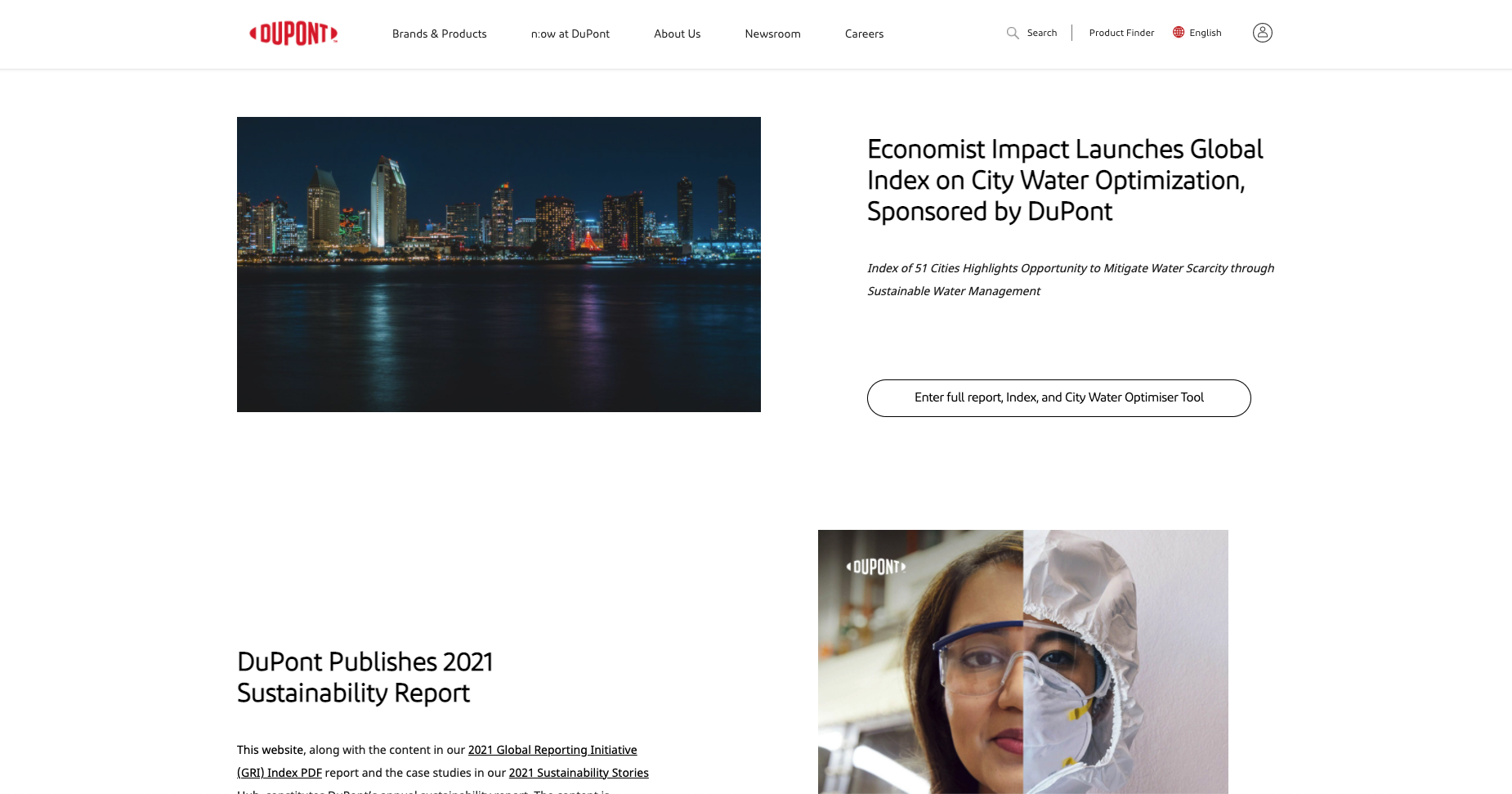 DuPont uses a clean and simple website that focuses on content above all. The use of white space, legible fonts and clear navigation are great elements for this responsive, conversion-first website.
Why the DuPont website works:
Great content marketing
Bold images and videos
Uncluttered, simple web design
A Successful Manufacturing Web Design Website in a Nutshell
To gain and retain traffic, manufacturing businesses need more than an aesthetically pleasing website. They also need a digital marketing strategy that ultimately converts.
The best manufacturing business websites start with top assets, planning and strategy. Even if a business is not selling any products online, its website is essential in the awareness stage of a sales funnel. Assessing the goals and planning the marketing strategy effectively ensures the web design is going to incorporate all the right elements – such as SEO, clear calls to action, pay-per-click campaigns, lead generation forms. And in the complex B2B sales cycle, these are just a few of the things to consider.
For example, Bell Performance used SEO to earn a 700% increase in search traffic in just one year. That then led to 600 new customers in a year and to a 14x increase in leads over two years. That's the power of great web design combined with digital marketing.
Looking for the Best Web Design for Your Manufacturing Website?
At Pixelstorm, we have extensive experience in the manufacturing industry, having built over 20 manufacturing websites. Are you ready to get more clients for your manufacturing company?
Our web development agency can help.
Check out some of our projects and contact us to schedule your free consultation today.