How much does a website cost?
When you are planning to launch a new website or upgrade your existing site, your first action item is likely researching web costs.
So we've put together this guide to help you understand the elements that comprise what is involved in website design and development.
This guide to "how much does a website cost" includes information on:
why investing strategically in your website is vitally important to your business
types of websites that may suit your strategic goals
the common elements that tend to comprise website investment
FAQs we get asked about web development company costs
the hidden costs that come with investing in website design and development (including protecting your SEO ranking if you are redesigning an existing website)
After reading this, you'll understand in more detail what's involved in website design and feel more confident making the right decision. It's not only about the web design company you choose, but also the kind of website best suits your business, now and in the future.
Comparing website quotes is a little like talking to a mechanic about your car repair.
You go to a mechanic when your car won't start, or needs repairs. You don't know what is needed to make it work but you know you need a professional. And you have no idea on what is required to get on the road again.
If the mechanic confuses you with jargon, you feel disempowered. And you might question if they understand it at all. Whereas if the mechanic explains your car repair in layman's terms, you understand what needs to be done and you're confident to make a decision. Also, if they ask a lot of questions at the start about your car and its usage and service history, you feel more confident that the mechanic understands what they are doing and has considered all options.
Continuing the car analogy, there's a huge variety of potential repair jobs for a car. It could be a vintage car needing special parts, or a significant repair due to a crash, or perhaps just a simple bit of panelbeating. Obviously, all these factors will greatly influence the investment you need to make to get your car back on the road.
Websites are not that different. The common question of 'how much does a website cost' is similar to; 'how much to get my car on the road again'. It requires the 'mechanic' (web agency) to ask many questions and get under the hood of your business (or existing website). A recommended investment should come only after a deep dive into the best solution for your business is completed.
Why is a website important to a business?
Your website is an asset you build that makes money for your business.
Consider your website design an investment, not a cost.
By simply shifting your mindset, and focus on investment rather than cost, you will consider what you need for your business and appreciate the importance of investing strategically in your website.
Depending on how well you invest, your website has the potential to become a significant asset for your business—like your best-performing staff member. It does the work of marketing, sales and even parts of operations and stock management. So, let's get it working hard for your business and delivering results.
The numbers: how much does a website cost?
| | |
| --- | --- |
| Type of site | Typical investment |
| Solopreneur/Brochure site | $2,000 – $8,000 |
| Startup | $3,000 – $20,000 |
| Corporate Website Refresh | $7,500 – $25,000 |
| Online course (LMS) | $10,000 – $30,000 |
| Ecommerce | $5,000 – $50,000 |
| Custom solutions | $5,000 – $50,000 |
How much does a website cost? Typical prices for a digital agency website build.
What kind of website do you need?
Naturally you want the best kind of site for your business and your budget. It should be a solution that directly supports the short and long-term direction of the business. We've outlined the common kinds of websites below.
Startup websites
Investment levels in startup sites vary greatly. Some have considerable budgets to spend. If your budget is limited, it's a good idea to build a solid framework that enables more functionality to be added later.
A startup website can be an impressive drawcard for investors. Otherwise, it can support growth once investors are secured. As startups change over time, the requirements vary, and the site should be built with these changing needs in mind.
How much should a brochure website cost?
A simple website may be most suitable if you don't have a complex business model, such as a very small business, freelancer, photographer or artist. If you have limited services and don't require an online store with e-commerce capability, a classic yet functional website design may be all you need. This may include a gallery and off the shelf integrations like a contact form. A site like this acts as a powerful reinforcement tool for word-of-mouth referrals.
Business Website refresh
Trends come and go, so what looked great back in 2015 is a little outdated now. You may need your existing site to be refreshed with a modern look and feel. The difficulty here can be preserving any SEO ranking while giving the site a refresh.
You might be looking to keep the same website design but add additional functionality. Perhaps your business has pivoted and you need to update your site to reflect your new positioning. Because there's an existing website in place, it's important to have a strategic plan to update it while maintaining site integrity.
Online course
Elearning is a huge market, worth about $325 billion globally. So it makes sense to invest in a slice of this valuable market. If you have an online course, you need your website to deliver a quality online learning experience. This includes a strong lead magnet and sales page to secure customers, plus the delivery of a top-quality course experience, featuring modules, videos, worksheets and downloads. If you have a high-ticket course, your site needs to reflect that premium price with a sophisticated look and feel.
It also involves a Learning Management System (LMS) which is an e-learning platform. A good agency will work through the best LMS for you, as they differ greatly in what they offer and investment required. Some provide monthly subscriptions, while others are once-off investments.
How much does it cost to build an e-commerce website?
If you are selling products on your site, there's a considerable level of functionality required. You're taking payments through your website, so it needs secure, strong payment, inventory and order capabilities.
Plus, without the ability for shoppers to try products in person, your website news to be the 'eyes, ears and touch' of the site, replicating the experience of real-life touch, feel, look (and perhaps also taste and smell). Strong photography, evocative product descriptions and extensive product detail are all part of the mix in a successful ecommerce website design.
Other considerations are:
the number of integrations you have
the product quantity
the category quantity
if you have physical stores as well
third party stock management
many other factors.
Custom requirements
If you have a website vision that doesn't fit the standard mould, or a specific problem that you need solved, a custom website may be the solution. This could include a specific design request, custom plugin development, third party integration or CRM development, These projects would usually require a technical deep dive and scope of works and planning is key for their success.
Custom backend requirements and functionality
Bespoke design with a specific brief
Plugin or custom website application development
Quiz/Form Development or integration
Application development for CRMS, dashboard, customer login areas
When you are comparing how much a website costs, you may find quotes vary widely. Often, it's the extras below that can impact your investment, and determine the quality of your site too.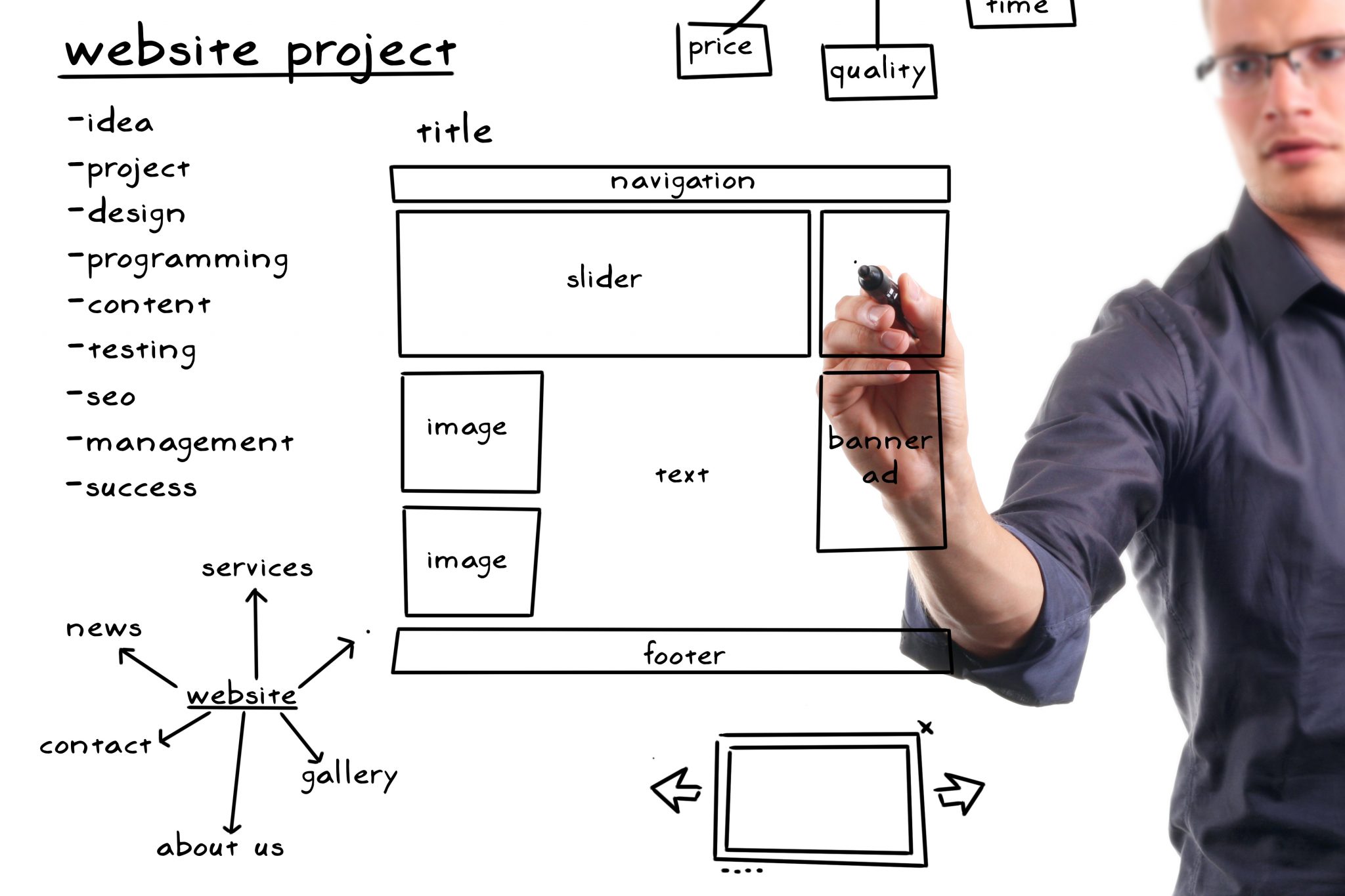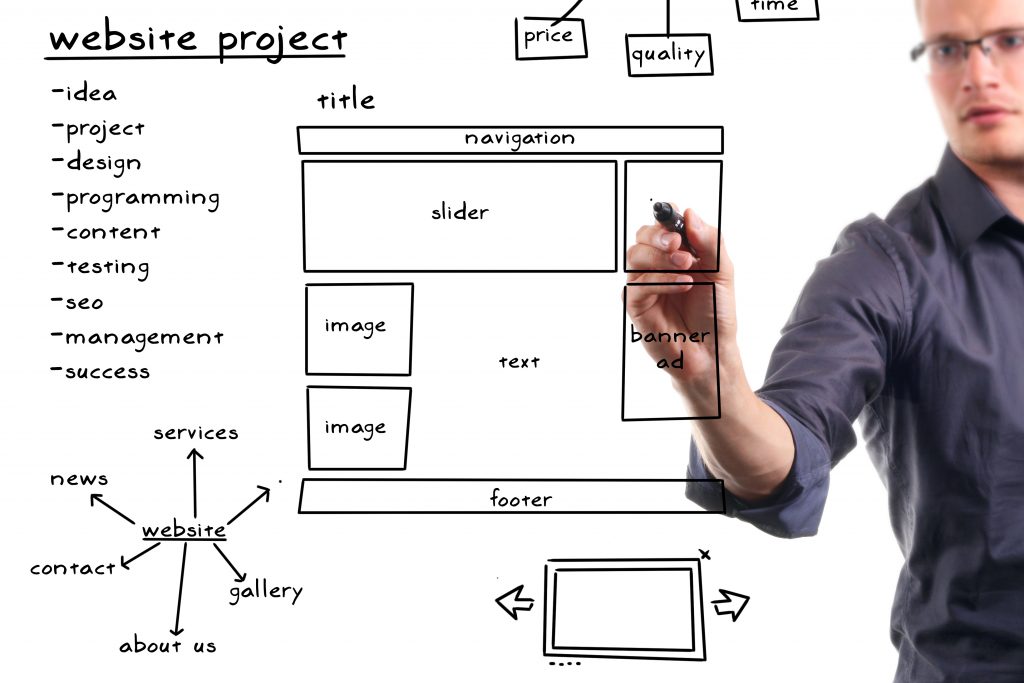 What's the Platform or CMS?
Each platform (or Content Management System: CMS) has pros and cons. WordPress is great for flexibility. Template sites like Wix and Squarespace are easy and affordable for small businesses. Shopify or woocommerce for e-commerce? If your site is enterprise or large corporate, you might need to consider a more robust application.
Images And Content
Are you using stock photos or using a photographer or a designer to create your own unique images? Elements like custom photos, infographics, artwork and illustrations can take your site to the next level.
Unique Content Writing
A copywriter will write compelling content that speaks to your ideal customer, encouraging them along the sales funnel. Good copywriting encompasses keywords for SEO and conveys a consistent tone of voice that brings brand personality to life.
Local Offices
Web Design Agencies with Australian based offices often charge you differently than an overseas provider or freelancer. But even in Australia, prices can vary greatly. Overheads for offshore developers are lower and that can save you on investment, but might make it a little more difficult to communicate or collaborate for larger projects.
Website Marketing strategy
There are numerous digital marketing elements that help your site get discovered and then help your site compel customers to take desired action when they arrive at your site.
On the discovery aspect, there's elements like SEO (search engine optimisation)
When people land on your website there's CRO (conversion rate optimisation) which uses a broad array of elements to create a positive user experience and encourage conversions, such as sales, downloads or making contact.
There may be exclusions in your website design quote, which can mean additional expenses you need to cover as part of your website design and build.
Some elements that may be missing are:
Content: you may be expected to write the site yourself or engage your own copywriter.
Images: sourcing stock images or using photographers and designers.
SEO: it's much better to add SEO elements as you build rather than update it later.
Hosting and domain purchase: the quality of hosting can impact the site speed and other factors—look for a local host if you want to attract local customers. Domains can vary in cost.
Legals: your site needs a privacy policy, terms and conditions, cookie policy and disclaimer.
Integration: if you have a customer relationship management platform like Salesforce, this needs to be seamlessly integrated in your system to reduce manual handling
Plugins: these are software additions that allow additional functionality to your site. There's thousands of plugins that improve elements like crawlability, security, SEO, site speed, ecommerce, affiliates and many more. Dependent on your budget its best to keep plugins to a minimum to improve website performance.
Security: you need to prevent hacks that slow or crash your site or malware that can steal customer data or distribute spam. Hackers are clever and keep inventing new ways to access sites, so your security needs constant updating to reduce your risk
Management: your site needs plugin updates, backups, ongoing security protection and more to keep it running ship-shape. It's a bit like a car that needs a service—but it should be monthly rather than annually.
Training: will you be able to access your own site and feel confident using it? You own your site, so you need to know how to add a blog post, post an event or add new products to your ecommerce website store. Does the site come with training, or do you need to contact your agency every time you want to make a small change?
Site and Code Ownership: Ensure you are not "renting" your own site. Or if you are, ensure your investment reflects the fact that you don't own all the code.
A high-performing website has plenty of pieces to the puzzle that contribute to success.
Here's some activities that a strategic digital marketing agency will implement as part of the process of planning, designing, building and launching your website.
Unique Website Strategy:
The strategy covers what is needed to deliver on the objective of the website and setting targets and goals for success. Either marketing based or otherwise. The website strategy reviews the type of website, the functionality required, plus recommendations for content, imagery and other assets. A website strategy will guide the design, content and overall build of the website. Without it, you will risk having your brand miss opportunities to gain traffic, impress (and convert) customers.
Site architecture:
Like building a house, the architecture of the site maps out the entire process. Planning the site wireframes and structure will ensure your site flows logically and seamlessly so it appeals to customers.
Plus, good site architecture helps your SEO because it ensures Google can effectively crawl your site. It determines the number of pages, designs and functionality needed to give your website the best chance of converting. Site architecture plays a big role in conversion; this is called conversion rate optimisation, or CRO. Larger sites have more complex architecture, and thus more investment is needed to get right.
Competitor analysis:
Deep dive into your competitors to learn from what works for them. From there, a competitor analysis will then work to formulate a plan for you that will go above and beyond to deliver a superior digital experience. Hopefully, this improves the likelihood of buyers choosing your site over your competition.
Web design:
Have you ever compared websites for a service or product and found they all look eerily similar? That's what a good website design will help you avoid.This is the customer-facing element of the website, so it is imperative to the website's success. The use of the website strategy will inform the design process, instead of working on these elements simultaneously. Website design should be tested with the target audience to determine effectiveness, and then further iterations can tweak the site, taking it from very good to brilliant! We find this process works best when it is highly collaborative between agency and clients.
Conversion strategy:
Traffic is well and good, but it only counts when customers take the next step. You may want people to:
buy a product (and further to that, increase the average shopping cart value)
contact you or book a discovery
download a lead magnet to join your mailing list (and your funnel)
A well-designed site will work hard to convert as many website visitors as possible using good CRO (Conversion Rate Optimisation). This is a rich tapestry of techniques such as mobile responsiveness, clever design and clear selling points.
Search Engine Optimisation:
If you want your site to get found in Google searches, the website needs to be built with SEO in mind. It will have the speed, URL Strategy structure, the Site Architecture we discussed earlier and keywords to maximise your chances of appearing in Google search results. A new website won't immediately rank—you need ongoing SEO services for that.
What to ask your agency to fairly compare website costs
If you are struggling to compare vastly different quotes for your website, consider asking the agency these questions:
Does the quote include photography or stock photography?
Does the quote include copywriting?
Are you using an off the shelf theme or is it a custom build?
What platforms do you use to build websites? (Make sure you find the best solution for your business, and that it ticks all your boxes)
What is your website process?
Have you worked on similar projects before?
Will you host the site and what will that cost?
Will I own the site code and site plugins
What will ongoing website maintenance cost?
What is my included support period?
Will you train me to upload and remove basic content like blogs, pages and products?
What level of involvement do you want from me?
Do I have the chance to make changes to the design? If so, how many times?
What sort of additional costs are typically incurred?
The agency should be asking you these questions
Hopefully your agency is seeking to understand what you want as well as what you need. (Which may not alway be one and the same.) Expect them to be asking you questions such as:
The problem your website is looking to solve
What does your 5 year plan look like?
What are the broader goals of the business?
Do you have a project timeline or launch deadlines that needs to be met?
What did you like about the last agency you worked with?
Who are your competitors?
Are you currently investing in digital marketing such as SEO or Google Ads Services?
What sort of conversion metrics will you be looking at beyond income generated?
How many people does the website design need to get approval from?
What is your website budget?
Are you looking for a long-term partnership or a short term (build the site and hand it over) arrangement?
What does success look like for this project?
It might seem like a lot of questions to ask. But when you are investing in a valuable asset that has the potential to drive plenty of revenue to your business, it's vital to make the best choice possible.
There's just one more important element we want you to be cognisant of before we wrap things up…
Redesigning your website—your SEO rankings are at risk

Are you upgrading an old, outdated website? Don't underestimate your rankings. Be very careful that you don't lose the traffic you have built up over the years.
So you want a wonderful looking website. But in the process, forget about your rankings and undo all your great content by changing page names, deleting keywords and confusing Google in the process.
Maintaining SEO rankings while redesigning the site is a specialist skill.
We've seen first hand sites that ranked well, delivering sales and leads for businesses get destroyed in the SEO rankings with new site design. It is heartbreaking. And it's sometimes because the web development agency had no idea that the client had invested in SEO services previously, or with another company. Without asking the right question there is no strategy or plan on how to protect that wonderful SEO quality.
So here is our final tip for you.
Ask if SEO migration is a part of the website cost to ensure protecting your SEO with a new website design.
It's important for you to feel confident that you are in safe hands in this case. Ensure SEO Migration plans are scoped and planned as part of your comprehensive website strategy to protect any SEO rankings you have earned.
Otherwise, you risk your SEO going downhill. That can mean a huge loss of income for your business. Just at the time your website needs to make more money than ever, because you've invested heavily in it.
What website costs you should expect to invest for common types of websites?
As an example…
E-commerce website: between $5,000 and $50,000+
When it comes to ecommerce online stores, a successful website will deliver:
strategic, beautiful ecommerce website design
strong product imagery, replicating as much as possible the in-person buying experience
smooth purchase transaction, with secure payment system
SEO to drive traffic
CRO to drive sales
integration with stock control and supply chain software
strategies to increase the average purchase
effective management of categories, allowing users to shop by different types using filters (eg shop by brand, product type, size, colour etc)
Your investment will vary depending on these elements and the number of products in the e-commerce store. If you have a high volume store, we recommend you consider ongoing ecommerce support, to ensure your sales don't stop and your site offers the latest solutions.
How much does a website cost for a small business?
Small business website: between $1500 and $10,000
If you have a small business and you don't need an ecommerce store, your website costs often include strategy, design, images, content, hosting, domain and security.
Your investment will typically depend on the problem we are looking to solve – Applying new branding, getting your phone ringing, improving on your initial website or perhaps just building your first website. Costs in this category vary greatly as small business range from one person to teams of 10+ employees.

Usually for a small business, you need pages like:
Home
Services
Contact
FAQ
testimonials
processes
credentials
working with you/your approach/methodology
team bios
landing pages (for Facebook or Google Ad campaigns)
sales pages (tend to be longer and more comprehensive than standard pages)
Plus, the more services you offer, the more pages you need and copywriting etc. This all needs to be designed in a logical, accessible and cohesive way so your customers aren't overwhelmed with choices when they arrive at your site. The real variable is the solution; as we mentioned earlier a unique design that separates you from your competitor comes from a website strategy that involves competitor research and more. This isn't needed for a "brochure site" but certainty is if you are using the site for marketing or serious business development.
A custom-built web solution: from $7,500 to $50,000+
For something more impactful and unique, something specific either through custom website design or functionality. If you are entering a competitive marketplace, this can be a highly strategic move that will be a game-changer for your business and ensure you create an immediate impact with your target audience. For custom web development solutions, the best approach is to have a "scoping section" to work out exactly what problem needs to be solved and the best technical solution to get there.
So, that's our guide to website costs, done.
We hope you feel more empowered about what it takes to build a website and feel confident comparing costs from different digital agencies.
To remind you of our key points again:
consider your website an investment, not a cost
strategically invest in a website that supports your business goals
understand what elements comprise quality website design
look out for potential hidden costs
ask the right questions of your digital agency to find the right provider for your business
find out the strategy your digital agency to protect your SEO rankings
Armed with these insights, you're now ready to go forth and make a strategic choice about your website investment.
Need a website strategy deep dive?